Abruzzo is known above all as a region of national parks and as a mountainous region, for its peaks which are the highest in the Apennine system. But Abruzzo is also a sea region, with kilometers of coastline rich in extraordinary landscapes, very different from each other.
In the province of Chieti this coast becomes very interesting, with coves, promontories, high and jagged cliffs, which make it unique and comparable to the oceanic coasts of Portugal or Scotland. This stretch, which extends from Ortona to San Salvo, including San Vito Chietino, Rocca San Giovanni, Fossacesia, Casalbordino and Vasto, is known as the "Costa dei Trabocchi" and takes its name from the trabocco, an ancient and typical maritime construction , which is frequent to meet on the coast and has become its symbol.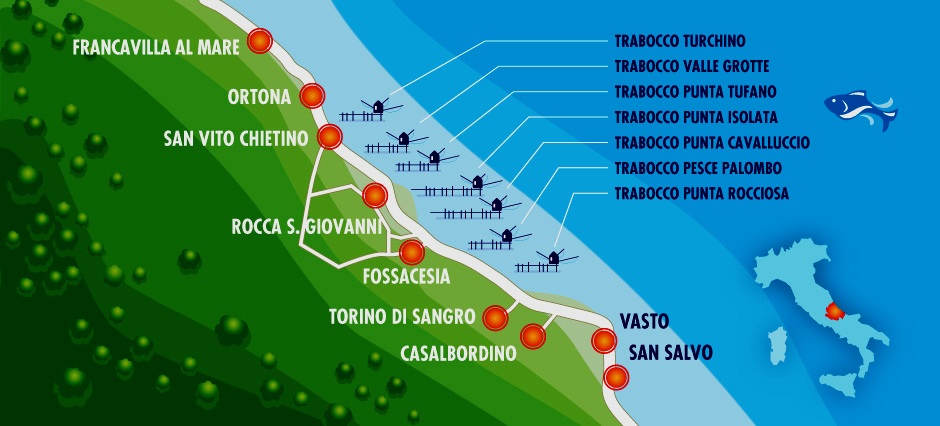 Trabocchi are strange and complex fishing machines, hoisted on stilts and supported almost miraculously by a web of cables and boards. They do not have a stable shape, but, in their essential parts, they consist of platforms, composed of boards and beams not completely connected, raised on primitive pillars driven into the seabed or on rocks, and joined to the nearby shore by slender walkways. The antennas detach from the platforms, which support the nets by means of a complicated system of pulleys and ropes.
The trabocchi have a light architecture, one would like to say aerial, but solid, able to withstand the weight of the sturdy fishing net and the stresses of sea storms.
They are not a stable architectural element, but dynamic, in constant relationship with the forces of nature, with which their ethereal structures interact continuously, as with each storm they lose more or less important pieces, and, after each storm, they need adjustments. and repairs.